This spinach tomato pasta with chickpeas is a perfect quick and hearty meal. You'll only need 9 ingredients and 30 minutes of your time. Cook a bigger batch of this tomato sauce and your lunches for the week are covered!
Pasta is one of my favourite meals these days. I find it both filling and comforting. I'm usually having spelt spaghetti, rice-millet spirals, or some other whole grain and generally non-gluten pasta.
A few weeks ago I discovered hemp pasta that I had never bought before and thought I'd give it a go. Needless to say, my spinach tomato pasta turned out very appealing and tasty. However, since it's not made of whole grain flour, I would not have it too often. All the same, not to worry, you can have my spinach tomato sauce with any pasta you like.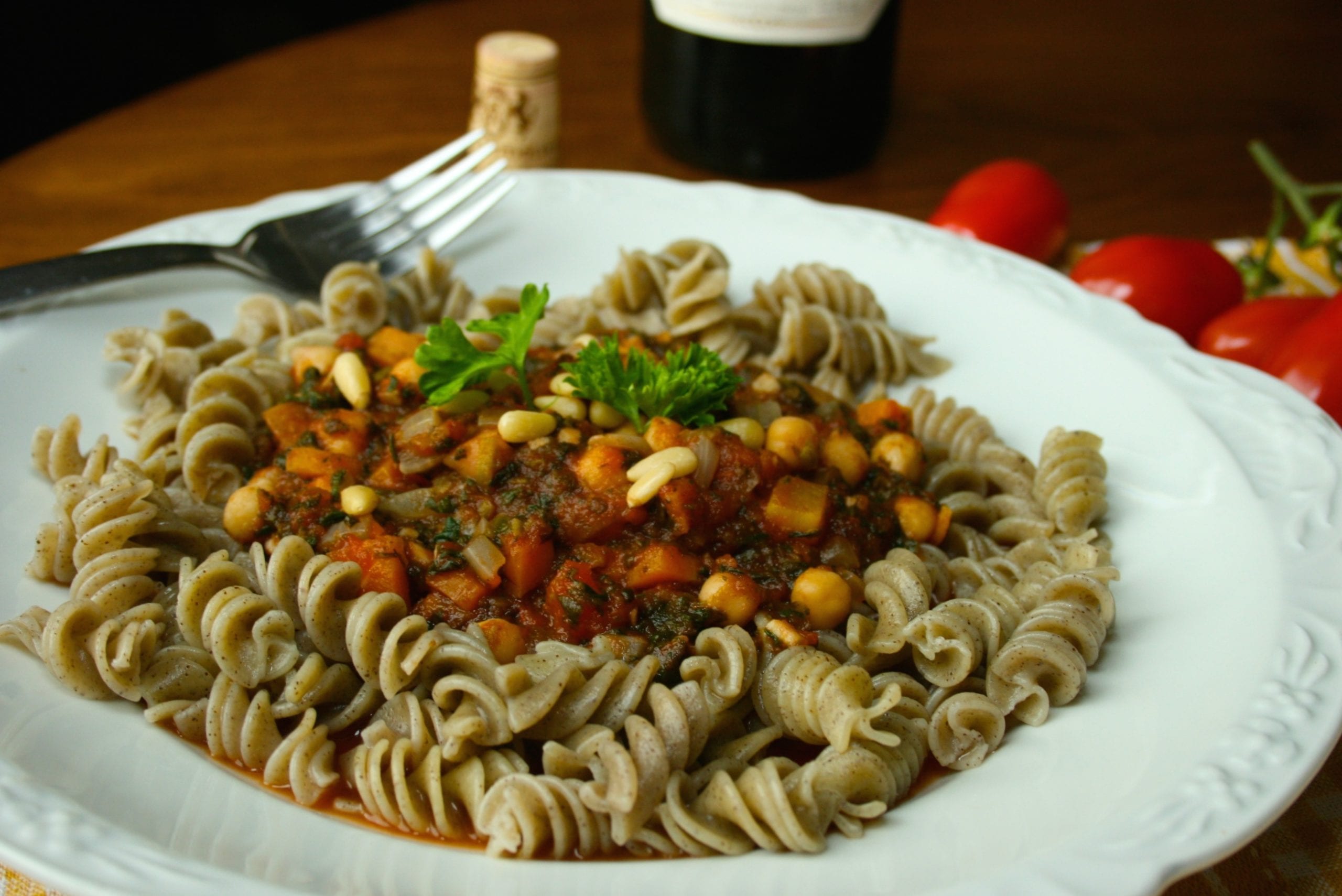 Spinach Tomato Pasta with Chickpeas
Ingredients:1 serving
1 small onion, chopped
1 small carrot, minced
2 garlic gloves, minced
A pinch of chilli flakes
1 can crushed tomatoes
Oregano
Himalayan salt and black pepper to taste
2 big handfuls of spinach (about 5 chunks if frozen)
½ can unsalted chickpeas, washed and rinsed
50g (0.11oz) hemp pasta (prepare separately)
Directions
First, heat a skillet or sauce pan and add 2 tbsp of water. Once it starts sizzling, add the onion and carrot, and sauté for 3 minutes (add water one spoonful at time if necessary).
Then, add garlic and chilli flakes and sauté for another minute.
Next, pour in the crushed tomatoes, oregano and some salt. Stir well. Cook covered on low heat for 15 minutes.
Finally, add spinach and chickpeas and cook for additional 3-4 minutes. Let sit covered. If you use frozen spinach, add it 10 minutes before the end of cooking time. Should you thaw the spinach first, use as fresh.
Boil the pasta according to the instructions on package.
Sprinkle nutritional yeast and some pine seeds on top. Garnish with fresh parsley or basil.
Nutritional info: 554 kcal, 104g carbohydrates, 5.28g fats, 22.1g protein.
Tips on my spinach tomato pasta recipe:
Use any pasta you like: spelt, whole wheat, rice, lentil, bean, quinoa etc. Opt for gluten-free versions if you struggle with Candida overgrowth or gluten intolerance.
It doesn't have to be 50 grams of pasta! If you feel that it's too much, feel free to eat less.
Make a double, triple or quadruple batch and store in a sealed container in fridge for easy go-to meals.