Pasta is one of my favourite meals these days.  I find it both filling and comforting. Usually I'm having spelt spaghetti, rice-millet spirals, or some other whole grain and generally non-gluten pasta.
A few weeks ago I discovered hemp pasta from Mahemarket – I had never bought it and thought to give it a try. My lunch turned out very appealing and tasty. However, since it's not made of whole grain flour, I would not have it too often. All the same, not to worry, you can have it with any pasta you like.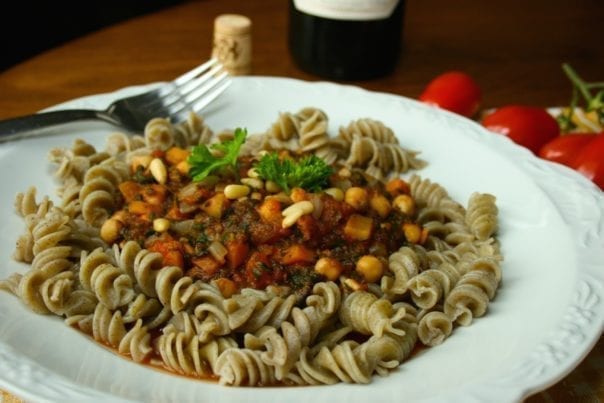 Ingredients: |1 serving|
1 small onion, chopped
1 small carrot, minced
2 garlic gloves, minced
pinch of chilli flakes
1 can crushed tomatoes
oregano
salt
2 big handfuls of spinach (about 5 chunks if frozen)
½ can chickpeas, washed and rinsed
50 g hemp pasta (or any other of your choice)
Preparation:
Heat a skillet or sauce pan and add 2 tbsp of water. Once it starts sizzling, add the onion and carrot, and sauté for 3 minutes (add water one spoonful at time if necessary).
Add garlic and chilli flakes and sauté for another minute.
Pour in the crushed tomatoes, oregano and some salt. Stir well. Cook covered on low heat for 15 minutes.
Add spinach and chickpeas and cook for additional 3-4 minutes. Let sit covered.
If you use frozen spinach, add this 10 minutes before the end of cooking time. Should you thaw the spinach first, use as fresh.
Boil the pasta according to the instructions on package.
Sprinkle nutritional yeast and some pine seeds on top. Garnish with fresh parsley or basil.
Delicious!
Nutritional info: 554 kcal, 104g carbohydrates, 5.28g fats, 22.1g protein.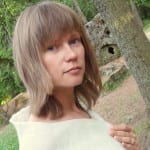 Nele Liivlaid: founder of Nutriplanet.org She has been into healthy eating for many years, but developed a more profound interest in nutrition and related diseases when she started reading The China Study and other special books on nutrition. After being in real estate and hospitality business for more than 10 years she decided to totally change her path to spread the word about healthy and sustainable nutrition and lifestyle.