Text and photos by Nele Liivlaid (Nutriplanet)
This is a no sugar, no oil, no wheat holiday treat (or why not for every day) you can surprise your loved ones with.
I have made many versions of these healthy cookies, but feel that this one is just right for Valentine's day 🙂
Ingredients:
makes 24 cookies
Wet:
1 cup (250 ml) water
6 medjool dates
½ cup (50 g) walnuts
1 ripe banana
3 tbsp lemon juice
Dry:
1 cup (115 g) oat flour*
3/5 cups (5 fluid ounces, 100 g) raw buckwheat flour*
¾ cups (85 g) oats*
1 tsp baking powder*
1 tsp cinnamon
½ tsp ginger powder
½ cup (75 g) goji berries
2 handfuls (15 g) of shredded coconut
3 tsp poppy seeds
Preparation:
1. Soak the dates in the 1 cup of water for at least 30 minutes to make them softer. If your dates are of soft side you can diminish the soaking time. Mine were quite dry.
2. Soak the walnuts separately – the longer the better, 4 hours would be ideal, but 30 minutes is better than nothing 🙂 Discard the soak water. Rinse well.
3. Combine all of the dry ingredients (oat flour, buckwheat flour, oats, baking powder, cinnamon, ginger, goji berries, poppy seeds, coconut) in a large bowl and mix with a fork.
4. Combine the dates and their soak water and the soaked walnuts with the lemon juice and banana in a high-speed blender, and blend until smooth (2-2 ½ minutes). Add to the bowl of dry ingredients and mix.
5. Using a one-tablespoon measure, place a scoop of cookie dough on your baking sheet lined with parchment paper. If necessary form a nice shape using a fork.
6. Heat oven to 175 C (350 F). Bake for 15-18 minutes on the middle rack, until cookies are lightly browned on top. Remove from oven and let cool.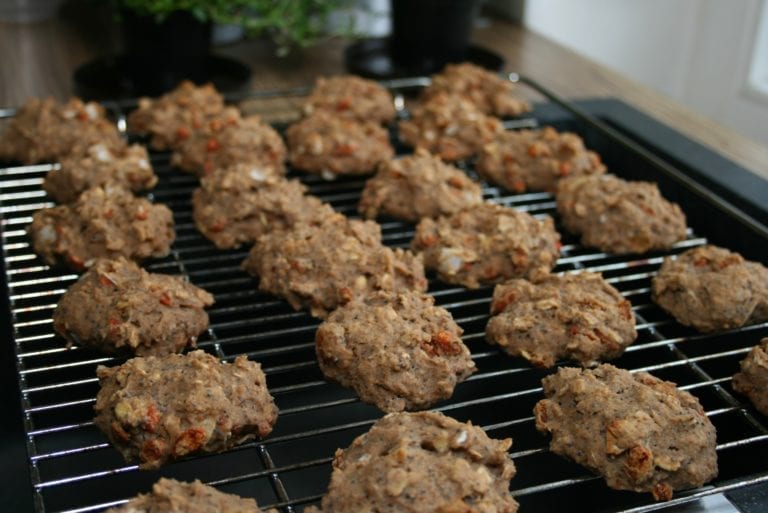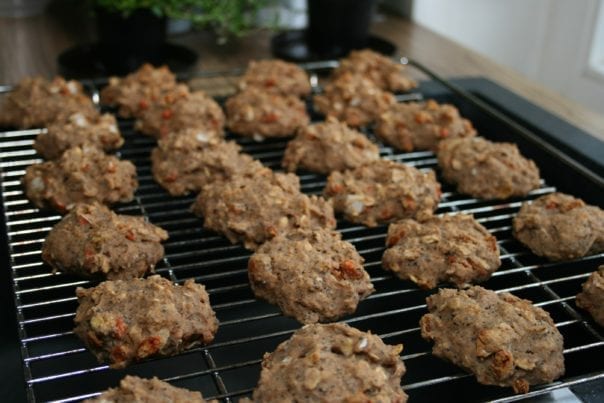 Notes:
*If you do not have oat flour, you can just measure 1 cup (115 g) of oats and grind them into flour.
*If you do not have raw buckwheat flour you can substitute with 1 cup (115 g) of oat flour.
*Prefer organic oats as the result is much better.
*If you use tartrate baking powder (like I did) add 10 g to the dry ingredients.
Nutritional value per serving (2 cookies): 163.8 kcal, 3.92 g fats, 19.08 g carbohydrates, 5.1 g protein, 3.98 g fibre.
Enjoy!