Here's a raw cashew cheesecake that will literally melt in your mouth. It requires a bit of hassle, but is totally worth it! Enjoy this gluten-free raw cheesecake with your friends… or not 🙂
I have made this raw cashew cheesecake for about 5 times by now. This is the cake that makes people sigh and want another slice 🙂 Read about taking another slice below 🙂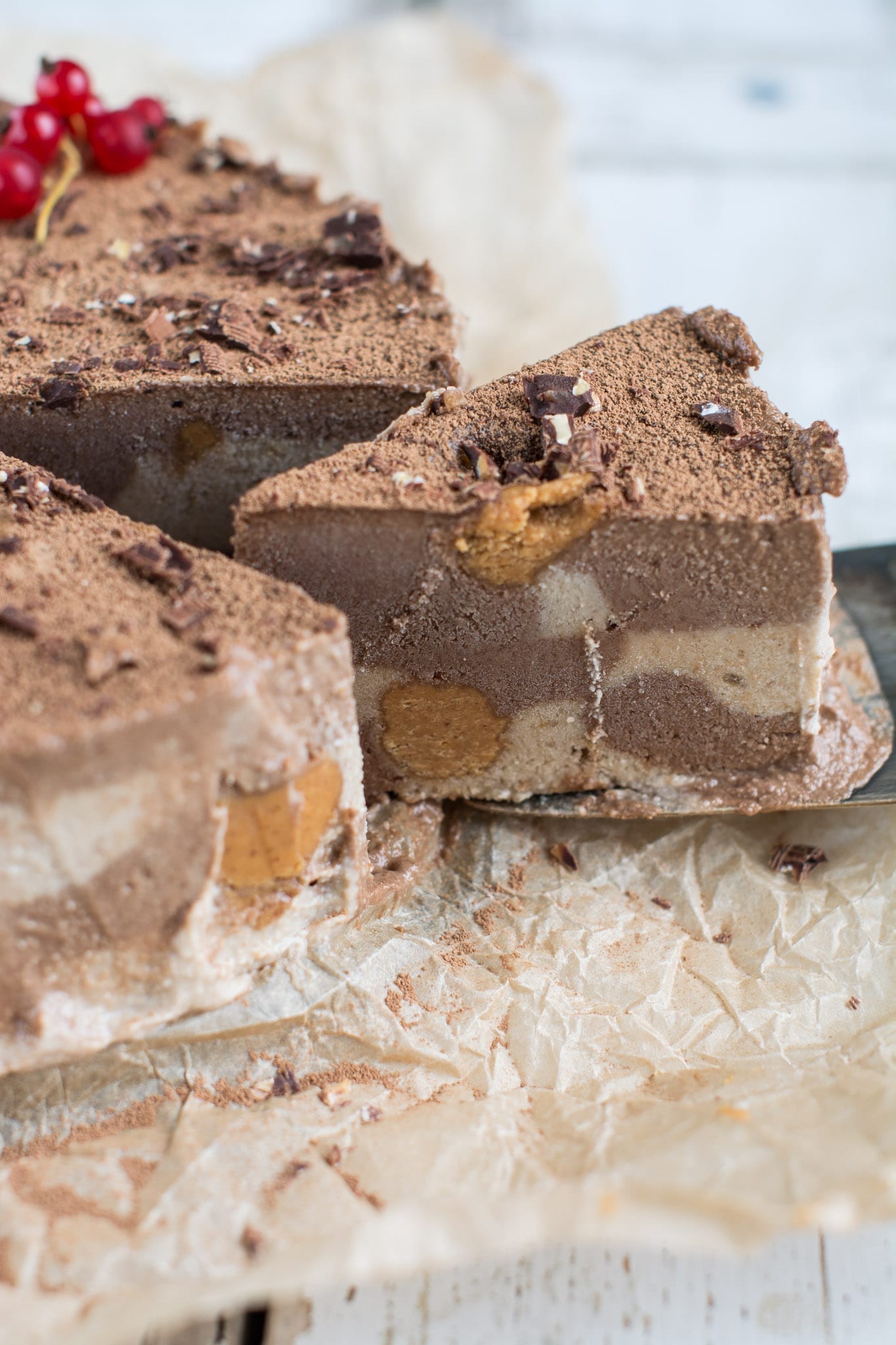 However, It is not completely sweetener-free as it contains agave syrup.
The recipe was inspired by Fragrant Vanilla Cake – as usual I have made my own modifications here and there.
Raw Cashew Cheesecake with Peanut Butter Swirls
Makes one 24 cm round cake
Ingredients:crust
300 ml walnuts
¼ Tsp sea salt
8 dates
Ingredients:filling
625 ml cashews
65 ml + 3 Tbsp water
2 Tbsp lemon juice
90 ml agave nectar
125 ml coconut oil (warmed to liquid)
½ Tsp sea salt
1 Tbsp pure vanilla
2 small ripe bananas
2 Tbsp peanut butter (100% without any additives)
90 ml raw cocoa powder + carob powder (half + half)
Ingredients:peanut butter swirl
65 ml peanut butter
2 tbsp agave nectar
1 tsp pure vanilla
Ingredients:chocolate cream frosting
250 ml dates
188 ml water
65 ml raw cocoa powder + carob powder (half + half)
2 tbsp coconut oil
Directions
Soak the cashews overnight and drain well.
For the crust, process walnuts and sea salt in a food processor until fine crumbs, then add the dates and process until the mixture holds together when squeezed. Firmly press crust into the bottom of coconut oiled pan. Set aside.
For the filling, combine drained cashews, water, lemon juice, agave nectar, warmed coconut oil, sea salt, vanilla, bananas and peanut butter in a food processor and blend. Makes about a litre of mixture. Now, to get it real smooth and creamy transfer half of the mixture into a blender and blend until real smooth and creamy. Move to a bowl. Put the other half into a blender and repeat. Add cocoa powder and carob into blender and blend until well mixed.
For the swirl: whisk all the ingredients together.
To assemble the cake: using a tablespoon drop the filling alternating between the plain and chocolate and throw in an occasional swirl (see the photos). Make another layer with opposite colours until the filling is used up. Smooth with spoon or knife. Place in freezer until it is set (6 hours).
For chocolate frosting: prepare only when the cake is already set! Place all ingredients in a blender. Let it sit for 15 minutes to soften the dates. Blend until smooth and creamy without any pieces. Put the frosting on the set cake and place in a fridge for at least half an hour.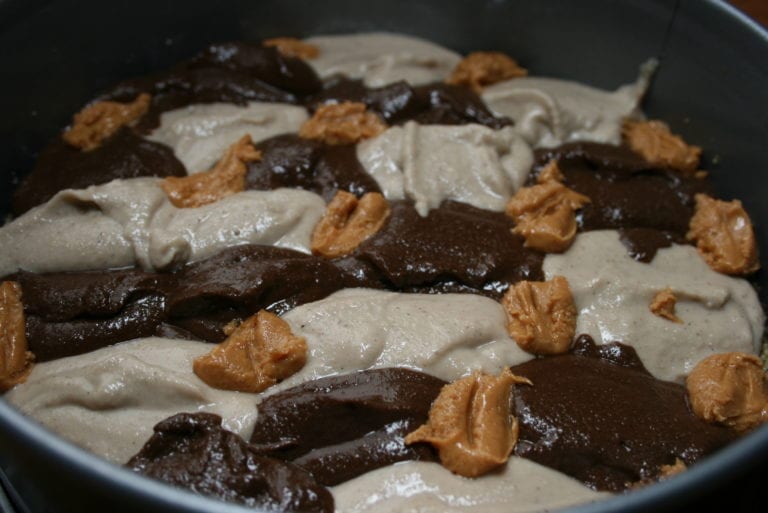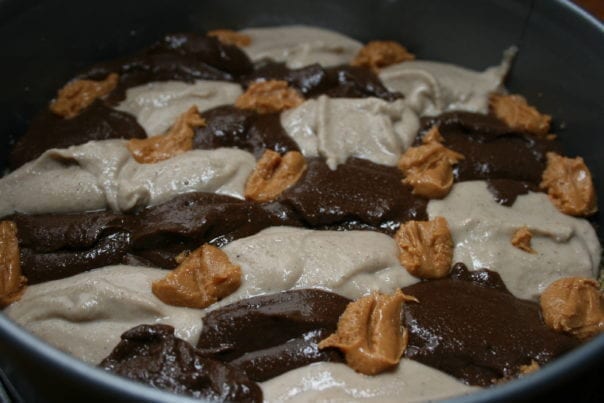 You can store the cake with topping in freezer.
Tips on my raw cashew cheesecake:
Sprinkle some cocoa powder on top of the cream.
You can make the cake without the chocolate cream topping having a bit lighter result.
Note:
People who struggle with their weight should not eat more than just a tiny piece of it as 1/16 of the cake contains 26 grams nuts, 9 grams coconut oil, 11 g peanut butter.
A person not having weight problems can eat up to 115 grams nuts a day, whereas those who do should minimize the daily intake to 25 grams.
However, as the cake is mostly made of whole foods (with the exception of agave syrup), i.e. not of refined ingredients it does not promote weight gain as "normal" refined sweets do.
I usually eat 2-3 pieces once or twice a month and it does not affect me at all 🙂