I have good news for those looking for no yeast cinnamon rolls as I've finally nailed it. Furthermore, my vegan gluten free cinnamon rolls are also suitable for those on vegan Candida diet, so definitely keep reading!
P.S. Don't forget there's also tutorial video further down!
Now, what I meant by finally nailing it was that it took me 4-5 goes to perfect those vegan cinnamon rolls. As for fluffiness you can't quite compare my no yeast cinnamon rolls with the recipes using yeast. However, they are soft and yummy nonetheless!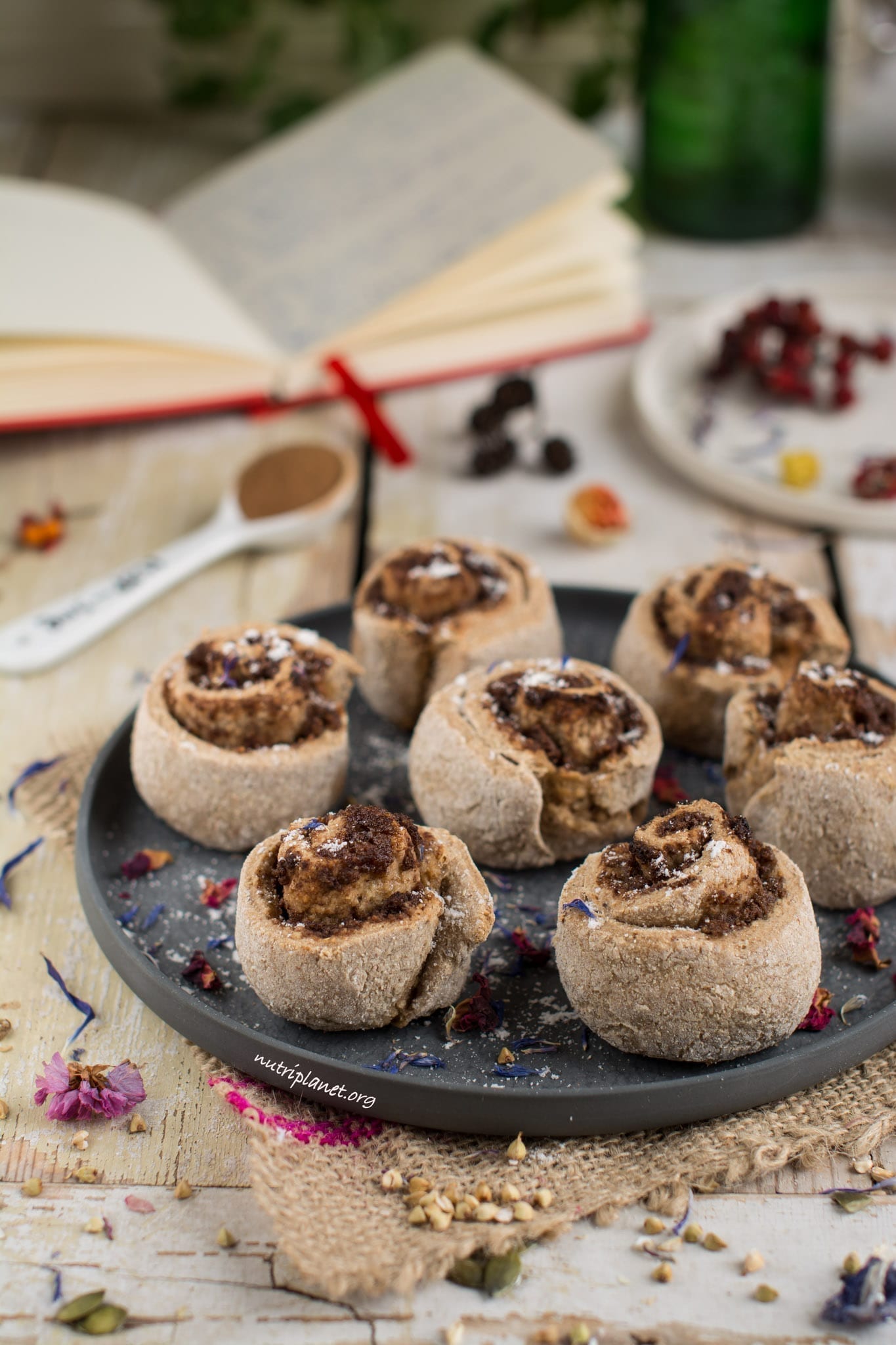 I think you know that besides being tasty, all my recipes also need to be healthy and Candida diet friendly. That being said, contrary to store bought varieties and to many recipes that you find online, my vegan gluten free cinnamon rolls don't contain melted butter (vegan or not), coconut oil, powdered sugar or even brown sugar. Furthermore, my cinnamon buns are also egg free and of course dairy free.
Which flours did I use, you might ask. Well, I went for raw buckwheat flour, brown rice flour and gluten free oat flour. The latter you can also easily grind from gluten free rolled oats. My first attempt was with buckwheat and oat only, but the outcome was a bit too bread like. Now, I tried using a bit less buckwheat and more oat flour the next time, but the oat flour just didn't do that good job in terms of elasticity.
In other words, it was difficult to roll it out nicely. And then came the third attempt when I substituted half of the buckwheat flour with rice flour and that was it! However, I had to give it another try because I only had white rice flour at home at that time. So, I needed to make sure it worked as well with brown rice flour. And it did!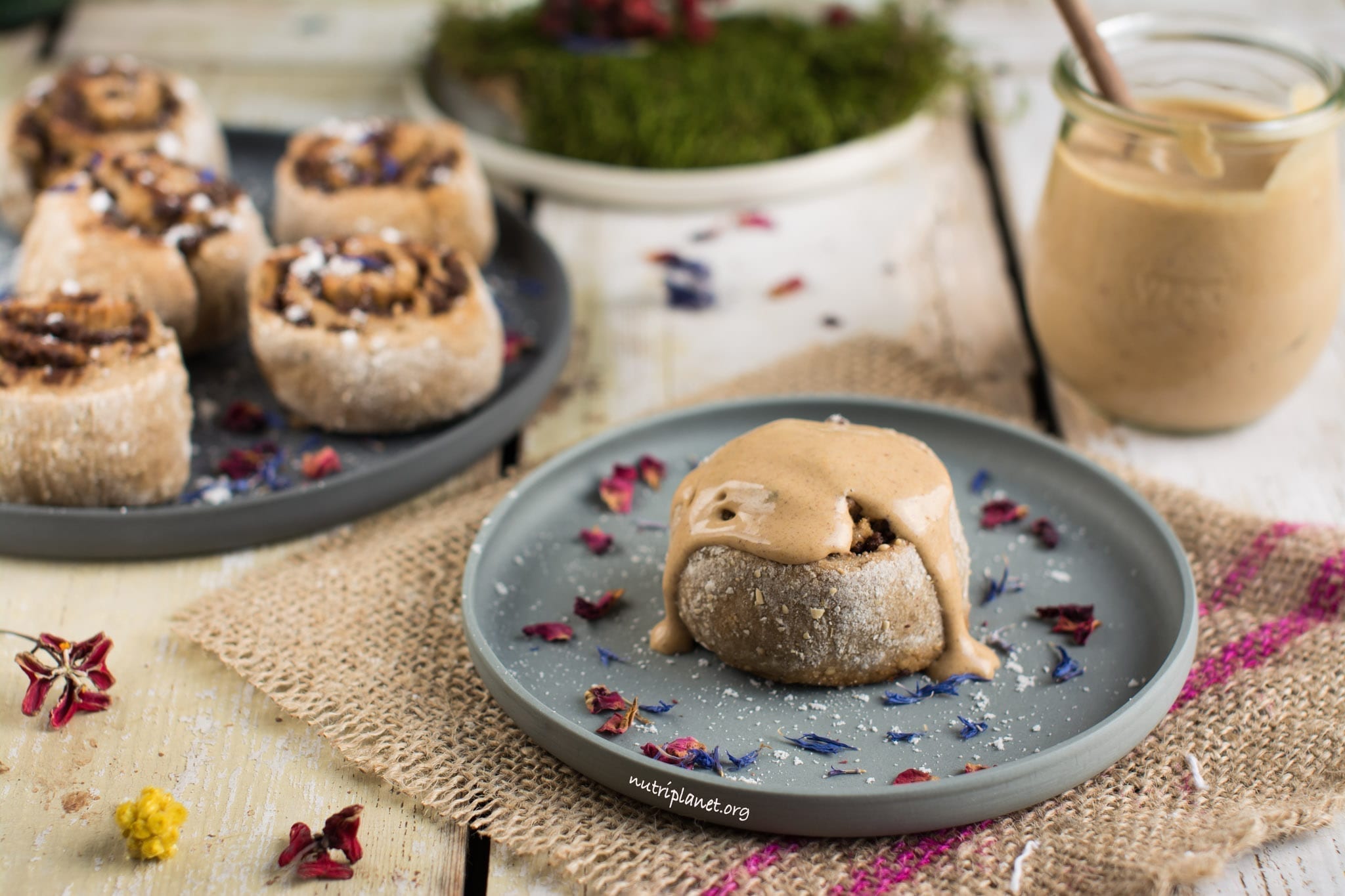 As far as the filling is concerned, I went for a paste like substance the first time. It was too liquid though and escaped the rolls in the oven. At the end I created a crumble like filling which works the best. So, how did I do without butter? It's easy actually – I used nut butter instead. You can use any nut butter you like, i.e. peanut butter, almond, hazelnut, or cashew. However, I wouldn't recommend tahini as it tastes a bit too strong for cinnamon rolls.
And finally, what holds it all together? Now, there is a divine ingredient I discovered only recently and that's psyllium, either as husks or in powder form. In this recipe powder works the best though making the dough super elastic and easily processed.
So, what are my no yeast cinnamon rolls all about?
Childhood memories brought back with no guilt.
Christmas morning filled with heavenly flavours.
Vegan gluten free treat not compromising with taste.
No fancy gluten free flour mixes.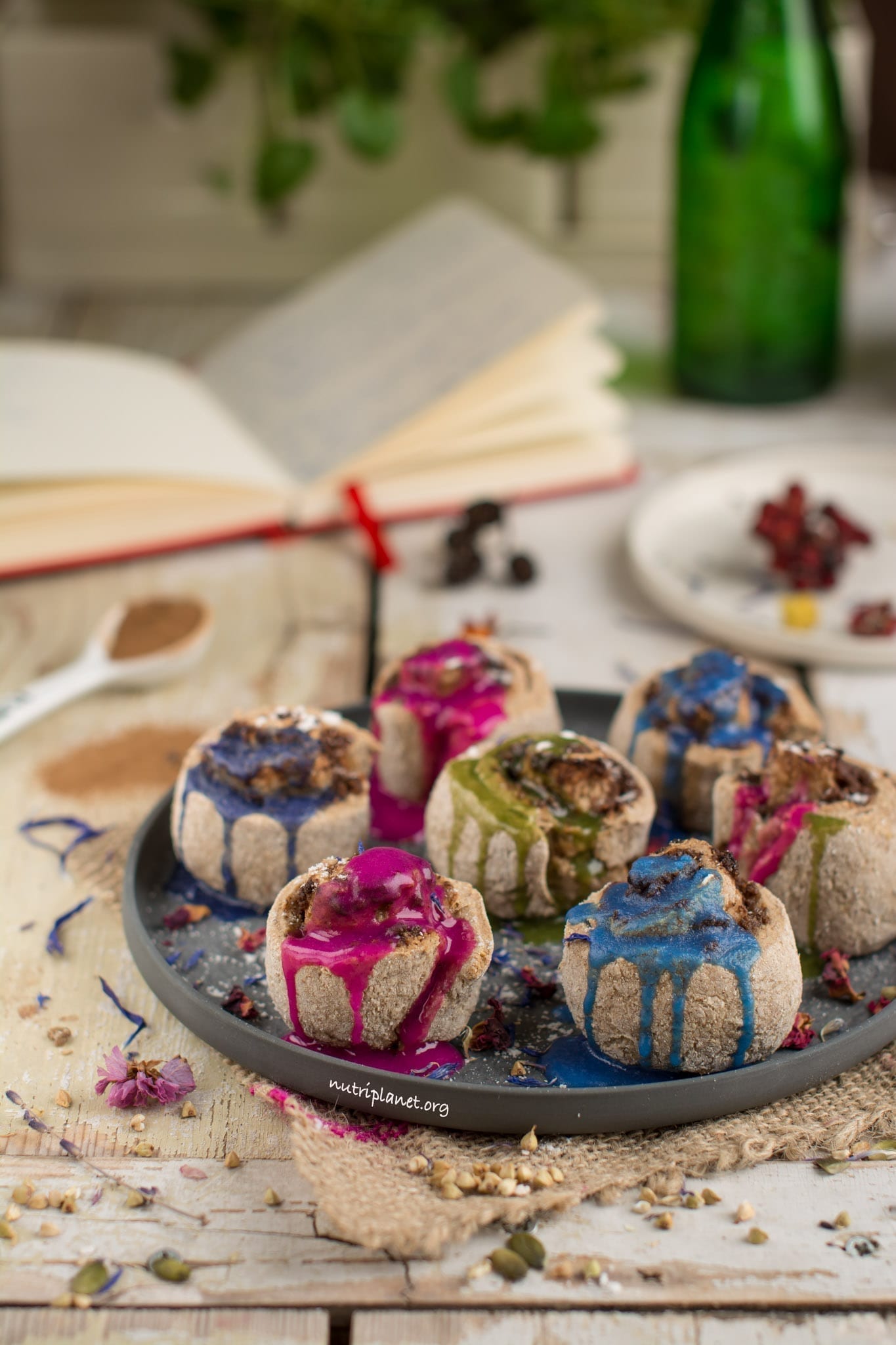 To sum it all up, my no yeast vegan gluten free cinnamon rolls make a perfect lazy breakfast, snack or even a dessert. You can make a bigger batch and store the rolls in freezer. Whenever needed, take one out, give it one minute at 450W in microwave (or heat up in oven) and you've got yourself an easy and filling bite.
And finally, please let me know in the comments below and please tag me in social media whenever you try one of my recipes! I'd love to see your creations! Instagram @thenutriplanet and Facebook @nutriplanet.health.hub
Print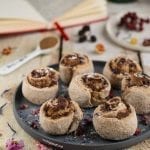 Vegan Gluten Free Cinnamon Rolls
---
Author:

Nele Liivlaid

Total Time:

1 hour 15 minutes

Yield:

18

pieces

1

x
Description
I have good news for those looking for no yeast cinnamon rolls as I've finally nailed it. Furthermore, my vegan gluten free cinnamon rolls are also suitable for those on vegan Candida diet, so definitely keep reading!
---
---
Instructions
First, add lukewarm soymilk to a bowl and mix in 1 tablespoon of organic apple cider vinegar. Let sit until you need it (but at least 5-7 minutes).
Then, make the filling by mixing all the ingredients together. It's the easiest to use a fork. Set aside.
Next, measure rice, buckwheat and 40 grams of oat flour and out in a bigger bowl.
Add the remaining dry ingredients to the flour (except the flour to be added later) and mix well.
By now, your soymilk looks like buttermilk. Add soy yogurt and stevia to it and stir. I used about 15 drops of liquid stevia.
Pour the buttermilk into the bowl of dry ingredients and mix with spatula until homogeneous batter forms. It's supposed to be quite sticky at this point.
Next, prepare a surface for rolling or use a silicone rolling mat. Add the reminder of flour in the middle of the mat and spread it out a bit.
With the help of the spatula, transfer the batter onto the spread flour. Gently flip it around and start kneading the flour into the dough.
Sprinkle the mat with some extra flour before you start to roll it out. Now, flour the pin as well and try to roll the dough into a rectangle following the biggest circle on your rolling mat (16", 40cm). Try to lift the dough every now and then to make sure it doesn't stick to the mat. If necessary, throw some more flour under the batter.
Next, spread the filling evenly onto the batter leaving about 2cm edge uncovered.
Now, start rolling a tube towards the uncovered edge. If it sticks, use a round-tip knife to get it loose.
Use a very sharp knife to cut the dough tube into 17-18 pieces and place them onto a baking sheet covered with parchment paper.
Finally, bake the rolls at 200°C (390°F) for 20-22 minutes until golden.
Cook Time:

75 minutes

Method:

Baking
Nutrition
Serving Size:

1/18 of recipe

Calories:

96.3 kcal

Fat:

2.51g

Carbohydrates:

17.5g

Fiber:

2.57g

Protein:

3.82g
Keywords: vegan cinnamon rolls
Tips on my vegan gluten free cinnamon rolls:
Grind your own oat flour from gluten free rolled oats. Measure the same weight.
Use any nut butter you like.
If you are on Candida cleanse or haven't introduced coconut sugar yet, replace it with xylitol.