Those delicious mildly sweet pumpkin chocolate chip cookies were born while I was playing around with my Soft Gingerbread Cookies, which I created last year. Since they are only slightly gingered, I definitely would not call them gingerbread cookies. Instead, those pumpkin chocolate chip cookies are all about fall flavours and therefore perfect for the cold and dark nights.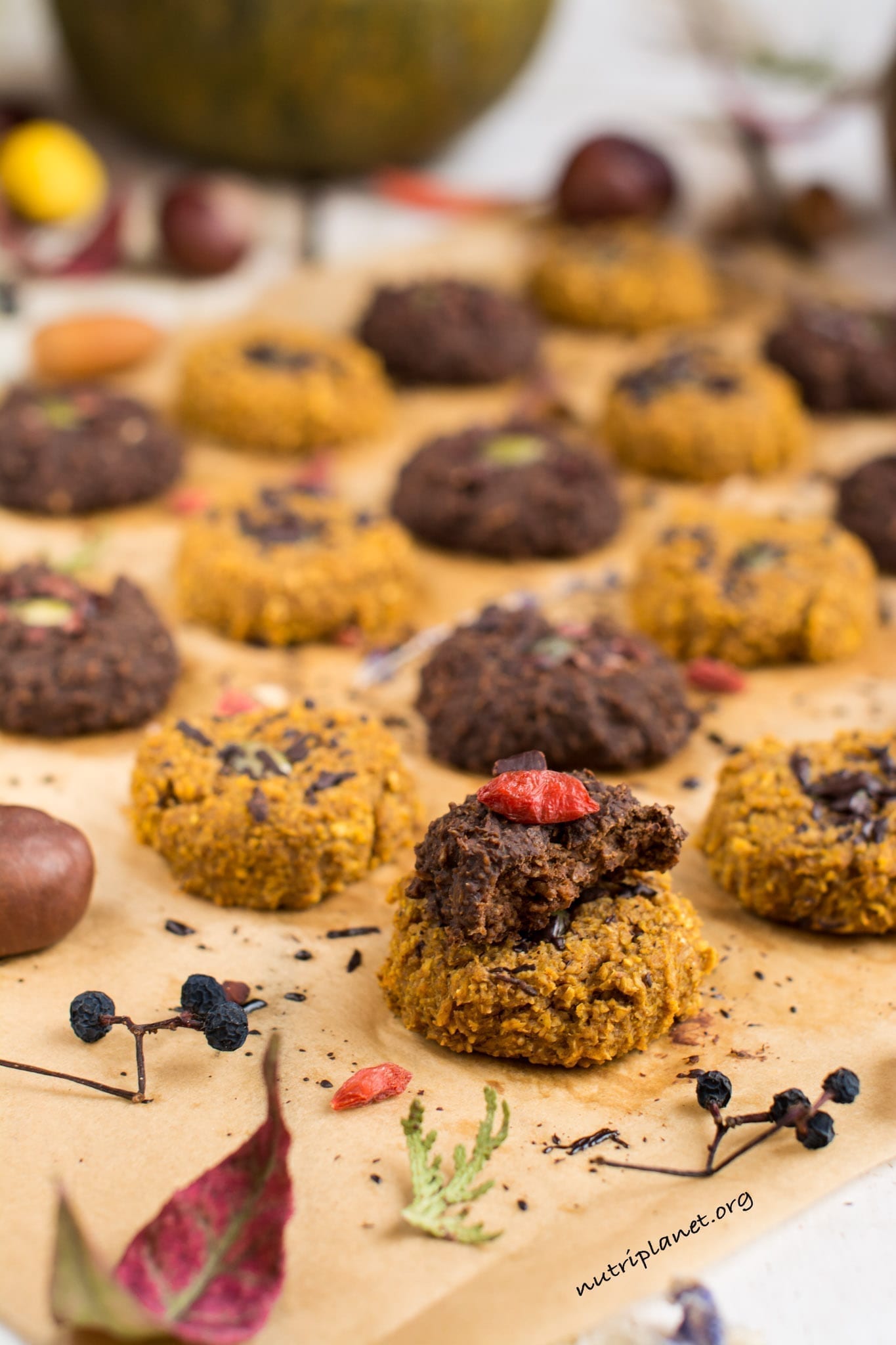 Since I decided to halve the batter, you're actually getting 2-in-1 with my pumpkin chocolate chip cookies recipe. First,  light cookies with turmeric and also chocolaty ones with carob, cocoa and chocolate chips. As a result, there's a bit of messing about involved with the process. However, should you favour easier and quicker version, you'd probably prefer to stick to one kind of cookies (see tips below). Either way, you'd get yummy and comforting cookies to enjoy.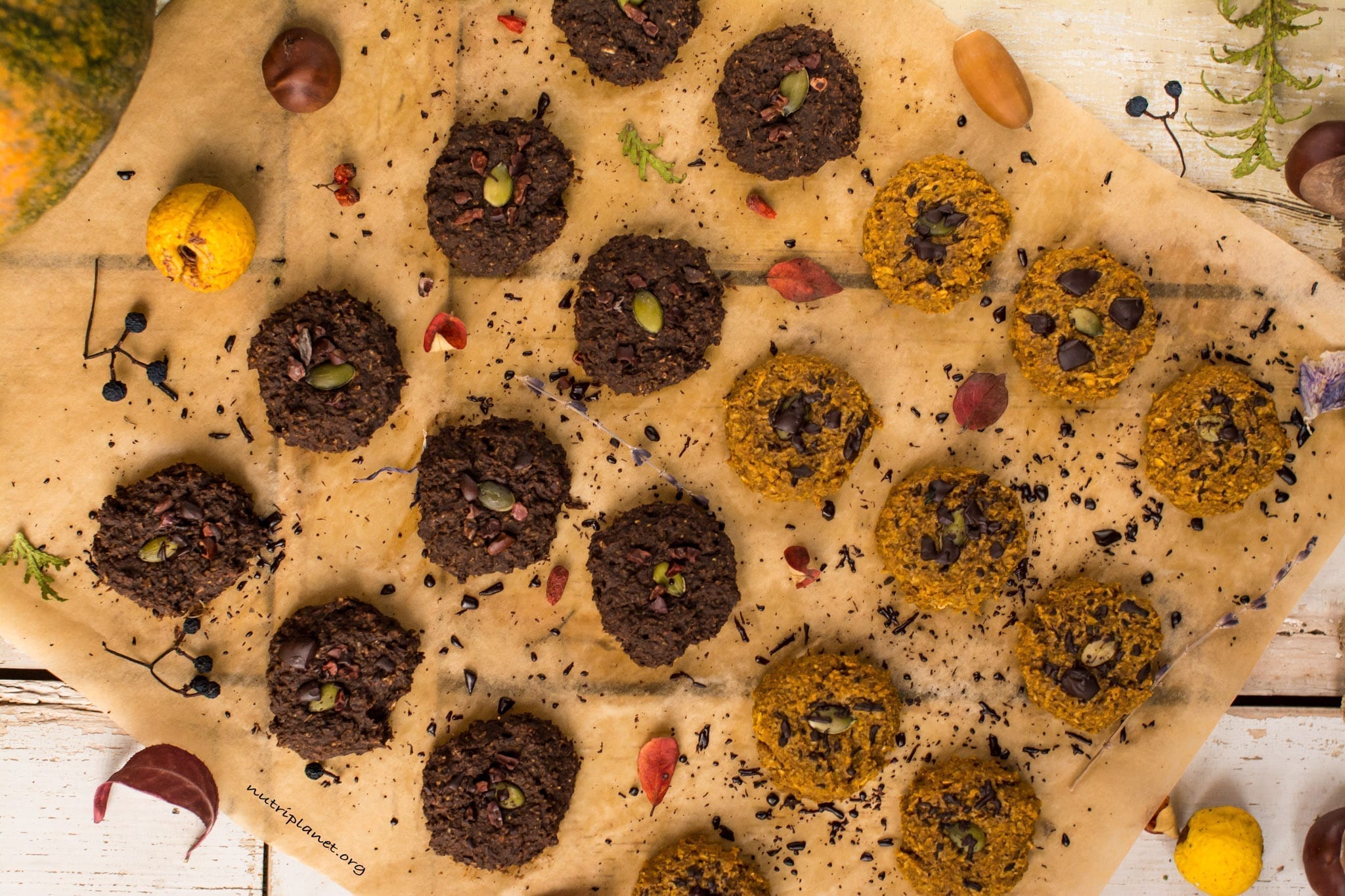 In conclusion, my pumpkin chocolate chip cookies are vegan, plant-based, gluten-free (if you tolerate avenin in oats), refined sugar free, oil-free and also vegan Candida diet friendly (except for those on Candida cleanse).
Pumpkin Chocolate Chip Cookies
Ingredients:add to chocolaty cookies
Ingredients:add to light cookies
½ tsp. turmeric
Dash of black pepper
Directions
First, heat oven to 175°C (350°F).
Combine all dry ingredients with 1 cup of pumpkin puree and peanut butter in a bowl.
Next, divide the batter into two equal parts.
For the light cookies, add turmeric and black pepper and combine well.
Then, mix carob, cocoa and ⅛ cup of pumpkin puree into chocolaty cookies batter.
Now, form 22 cookies (you'd get 10 light and 12 chocolaty ones) and place them on a baking sheet lined with parchment paper. Sprinkle some chocolate chips or chopped dark chocolate on the cookies and bake for 15-16 minutes.
Finally, let cool a bit before serving.
Nutritional info (one 25g light cookie): 55.9 kcal, 8.61g carbohydrates (61.6% of kcal), 1.82g fats (29.3% of kcal), 2.22g protein (15.8% of kcal), 1.88g fibre, and 3.44 GL points.
Nutritional info (one 25g chocolaty cookie): 52.2 kcal, 8.4g carbohydrates (64.3% of kcal), 1.65g fats (28.4% of kcal), 2g protein (15.3% of kcal), 2.1g fibre, and 3.22 GL points.
P.S. Nutritional info includes 1g of chocolate chips or chopped dark chocolate per cookie.
Tips on my pumpkin chocolate chip cookies:
Make only light cookies by adding 1 tsp. of turmeric and a few dashes of black pepper to the batter.
Alternatively, bake only chocolaty cookies – mix 3 tbsps. of carob, 4 tsps. of cocoa powder and an additional ¼ cup of pumpkin puree to the batter.
Now, the cookies freeze really well. Therefore, you can make bigger batch for a longer period of time. Whenever necessary, take a few out and heat them up in oven (for crispy cookies) or in microwave oven (for soft result).
Another tip: you might need to add more or less xylitol depending on how sweet your squash is and how big your sweet tooth is.
Disclaimer: the recipe contains links to products that I recommend and that meet my requirements.