Again, it is that time of the year to share my vegan road trip experience with all of you. For us it was already third time on route Barcelona-Tallinn-Barcelona and I have to say that it gets easier each time as you constantly learn along the way. This summer our route was Barcelona-Girona-Lyon-Karlsruhe-Nürnberg-Poznan-Kaunas-Tallinn. In total the trip lasted for almost eight days as we took it slow in the beginning and spent two nights in Girona. You can easily to find vegan food in Europe, here some I could share with you.
Plant-based food to pack for the road
This time I really tried to pack less food as I already knew that it'd not be a problem to make refills on the road (at least until Poland).
So, this is what we had for plant-based snacks and meals for the road, of course you can called it vegan food in Europe:
Jarred foods: peas, beans, soup, corn, red cabbage, applesauce, spreads
Fruits that are easy to eat on the go and in the car (pears, bananas, strawberries, apricots)
Corn cakes make an excellent snack
Dark chocolate is especially good in the afternoon when you tend to get sleepy
Nuts (Brazil nuts and almonds)
Dried fruits (raisins, prunes, goji berries)
Nori sheets for iodine and omega-3's
Salad
Small chocolate soy desserts
Small soy milks and oat milks
Fermented buckwheat bread
Spirulina muffins
More stuff to pack for road trip: napkins, forks, spoons, one sharp knife, scissors, and cups. We didn't need any plates or bowl as we ate straight from jars.
Also, it is good to remember to always have a plastic bag for garbage.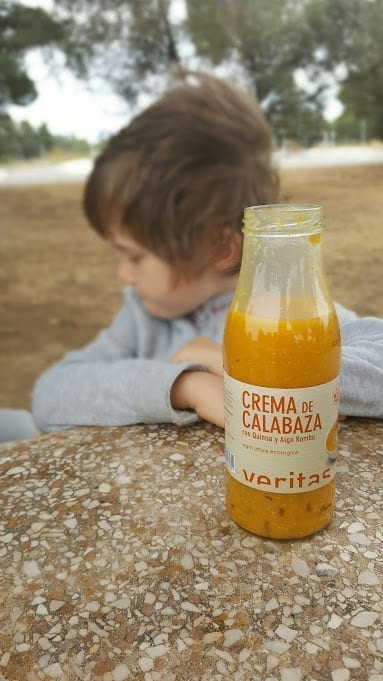 Girona, Spain
We decided to take it slow in the beginning and only drove to Girona (1-hour-drive from Barcelona) on our first evening. We stayed there for two nights to be able to visit Besalú and Castellfollit de la Roca, which were picturesque small places. It's easy to find vegan food in Europe.
B12 is charmingly located in the Old Town by an almost pedestrian square where you can sit under arches of an old building and enjoy vegan food and/or craft beers. On our first night we landed there for late dinner and had a salad, a burger and tofu quiche. Unfortunately it was too dark to take any photos. I asked to discard oil from the salad and it was not a problem. The quiche and burger were too oily for our taste, but otherwise good.
We also had dinner at B12 on our second night in Girona and enjoyed some more salad, some burgers and filled pasta accompanied by craft beer.
Quality coffee addicts as we are, we enjoyed specialty coffee at La Fabrica on our first morning in Girona. La Fabrica is an awesome specialty coffee place run by a professional cyclist and his wife. The space is all about bricks, worn out wood and high ceilings, so it can't get any cozier. One thing that I absolutely loved about the place is that they embrace non-smokers and actually have "No Smoking" stickers on tables outside. First time ever seen in Spain! However, this didn't stop people next to us lighting their cigarettes 🙁
They only had coconut milk as plant-based alternative though, so I was glad I had brought small packages of soymilk with me – you see, a plant-strong eater always thinks ahead! The same with grainy bites (bread, muffins) – I always bring my own, as I have never found plant-based oil-free and sugar-free bites in any cafes so far.
The owners of La Fabrica have also opened a second coffee place called Espresso Mafia not far from their first café. It has a totally different vibe being all white and hidden away under the arches of an old building. Again, coconut milk was the only plant-based option, so I reached for some more soy milks I had bought from a small organic shop Herbolario Ester García at Carrer de les Hortes 13, which is just around the corner from a decent bakery Casa Moner at Carrer de Santa Clara 45, where we got whole grain spelt bread and spelt bread with olives – amazing for us, coffee and bread lovers 🙂
Lyon, France
I am still so sad that we only stayed in Lyon for one night – I would have spent a week there to discover all the hidden places. However, my husband absolutely needed to be in Tallinn on July 7, so we kept our planned schedule. Once again, it would make you think that you could find easily vegan food in Europe.
Le Trefle, 1 Place Jules Guesde, Lyon
We arrived to Lyon quite late, so we needed to hurry to get some dinner. We first headed to a vegan café Against the Grain, but as Murphy's Law they had closed the place for technical reasons. Fortunately, on our way to Against the Grain we had passed Le Trefle, a small Chinese restaurant, and decided to give it a go. The couple, which ran the place, did not speak much English, but we managed to understand one another. Furthermore, they were super-friendly and helpful. They served us a beautiful and huge bowl of vegetable wok with rice, which was not too oily at all. We felt very welcome and enjoyed the experience a lot!
Actually there were a couple of places we could have gotten our coffees from, but for some reason we went for Mokxa. It was nicely located in the Old Town in an idyllic small square having a great vibe to it. They had soy milk, but unfortunately it was the vanilla-flavoured Alpro that totally kills the taste of coffee. Also it happened to be the one morning my small Provamel soy milks had run out and I hadn't had the opportunity to buy new ones, so I took the milk they had. I must admit I'm one of those people who just can't have black coffee.
We discovered a beautiful farmer's market full of colours by the river, bought some great strawberries for the drive and started to walk back to hotel when we discovered a big organic shop Naturalia France at Quai Saint-Antoine 37 to make some refills.
Karlsruhe, Germany
Our first stop in Karlsruhe was of course the hotel followed by My Heart Beats Vegan – a spacious vegan restaurant with some awesome food. The salad was actually as big as I make mine at home. We all were super-full and satisfied. Furthermore, we had a very pleasant chat with a girl from Latvia who gave us a bunch of good advice for Riga. It really isn't hard to find vegan food in Europe.
And in the morning the coffee addicts headed to specialty coffee shop Perlbohne at Blumenstraβe 19 – again a very nice place with awesome atmosphere. And again Alpro soy milk 🙂 I had my own ready and the barista prepared delicious coffees with it.
As we walked back to our hotel from My Heart Beats Vegan we discovered this huge organic shop and headed there the next day to buy some food for the road. I'm still impressed by the size and number of organic shops in Germany – it seems that even the smallest place has an organic shop with prime location.
Nürnberg, Germany
The drive from Karlsruhe to Nürnberg was only 250 km allowing us to arrive early and enjoy a nice summery evening dining in open air at Mariposa, a small family-owned vegan restaurant on a quiet street. One of the owners had lived in Spain for 15 years, so we could speak Spanish to her, which felt really homely. Furthermore, an Estonian girl sat down to the table next to us allowing us to speak also Estonian – our kid was extra happy to express himself freely 🙂
The food was just incredibly good – we had lentil-tomato stew, tofu balls in tomato sauce, potato tortilla with turmeric sauce and wheat semolina dessert with coconut milk and raspberries.
Having already been there two times, we knew exactly where to go the next morning for our cup of specialty coffee with perfect not flavoured nor sweetened soy milk – Machhörndl Kaffee at Kieselbergstraβe 13. I actually had two cups, as it was just so good!
Unfortunately a big organic shop Basicbio had closed themselves down in Nürnberg, but we happened to walk by a 100% vegan boutique Lebe Gesund at Josephsplatz 11 to buy some spelt bread and vegan spreads. The shop really looked like grandmother's fairy tale with a very nice elderly lady who also spoke English and was super kind to us.
Poznan, Poland
As we arrived to Poznan rather late, we had to hurry to Pracownia at ul. Woźna 17. So, we took the car instead of having a nice walk and were able to get there in time. It was only 30 minutes to closing time, but they were kind enough to serve us a delicious dinner – beetroot soup, a big salad, hummus with pita bread and chickpea stew with brown rice. As it was very dark in the restaurant, the photos are not the greatest 🙂
We had planned to have a nice walk in the morning, but the weather didn't favour as at all – it was 15 degrees and raining. So, we packed ourselves, took the car and drove to Stragan Kawiarnia for coffees and surprisingly also for excellent vegan oatmeal with apples and cinnamon. They only have oat milk as plant-based alternative, so I took out my Provamel soy milk again 🙂
Kaunas, Lithuania
The drive from Poznan to Kaunas was very tiresome and long as after Warsaw the highways end and you get along really slowly, which is why we only arrived to Kaunas at 00:30 (we lost an hour due to new time zone). We already dined on the road (jarred peas, tofu spread, salad and corn cakes), so we went straight to bed.
We had noticed Vero Café already the night before as it was basically across the road from where we were staying. I was so glad I had found Provamel soy milks in Du Medu Eco Namai, beacause the café only had Alpro. The coffee was good and service very friendly and welcoming.
We found this café when searching HappyCow. We decided to give it a try as they had a different soy milk. Now, I'm so glad we only took a small cappuccino as the milk had a really terrible flavour so that I was not able to drink it all. I wonder if the caterers taste everything they serve themselves. However, the atmosphere at the café was really cosy and nice and they have vegan options in the menu.
We found an organic shop right next to our hotel at Laisvés al. 79. We browsed it through and bought some spelt bread, corn cakes and a raw bar with sprouted buckwheat.
Another small organic shop next to Vero Café at Laisvės al. 86 that surprisingly had my favourite Provamel soy milks with reasonable price.
Nature's Fast Food Kiosk
Now, this is just the greatest discovery I made during the whole trip – right in the touristic area jus off pedestrian street Laisvés al. there was an old-school kiosk selling fresh vegetables, berries and fruits. Strangely also alcohol was at display, but who cares – I've never seen a kiosk like this anywhere before.
I'm really sure that you have another place who deserve vegan food in Europe, so please leave me a comment bellow if you have any recommendations!
Cutting it short – it is actually super easy to eat whole food plant-based on a road trip. I have already proved it three times! Check out my previous plant-based road trips.