Masks are more than just a way to spruce up your Halloween costume — a routine facial mask can significantly improve your complexion and skin health, especially when activated charcoal is the main ingredient. This fine powder is simply carbon that has been heated, increasing its natural adsorption.
So, what does that have to do with a natural beauty regime?
Activated charcoal is so effective at binding to toxins and chemicals, that it's long been used in a number of emergency situations. From food poisoning to drug overdoses, activated charcoal essentially acts as a magnet. Just as it attracts and binds toxins inside the human body, the same properties apply to your skin.
In fact, here are three key benefits to know, before jumping into your own do-it-yourself face mask:
Absorbs Oil, Dirt, and Toxins — Amazingly, it's believed that activated charcoal can absorb thousands of times its own weight. Whether you have oily skin or are prone to acne, activated charcoal helps draw out impurities so that they can be eliminated from your pores.
Prevents Premature Aging — Research has shown that when applying activated charcoal to the surface of your skin, it is able to tighten pores, improve elasticity, and reduce inflammation. In turn, you experience younger looking skin.
Soothes Bug Bites — Nothing is more irritating that an itchy bite that just won't quit. When applying activated charcoal to a sting, bite, or even cuts and scrapes, it reduces swelling, pain, and your risk of an infection.
Make Your Very Own Activated Charcoal Face Mask
An activated charcoal mask could not be simpler to make — all you'll need is:
1 tsp aloe vera gel
1 tsp water
2 drops tea tree oil (optional)
Why, aloe vera? More like, why not? You probably associate this thick gel with sunburns, however, it provides a wide range of beneficial properties. Offering both vitamin C and vitamin E, when applied regularly, it will reduce the look of fine lines and wrinkles.
Based on its moisturizing effects, it will help nourish and soften your skin. In combination with activated charcoal, this is an acne fighting dream team as well. Aloe vera yields antimicrobial properties, supporting the anti-inflammatory properties of activated charcoal.
The end result is less breakouts and more supple skin overall. If you do have issues controlling acne, the addition of tea tree oil is highly recommended. Based on its natural ability to reduce skin inflammation, it can also help relieve conditions such as eczema.
This will make one mask, so if you're aiming to make enough for three or four people, multiply the ingredients accordingly.
Simply mix all the above ingredients in a small dish, using a Q-tip or a toothpick, mix thoroughly to combine.
Apply to your entire face with either the Q-tip or your fingertips, avoiding your eyes and mouth.
It's important that you allow the mask to fully dry before rinsing with warm water.
This simple and cost effective mask is a great way to naturally cleanse your face, while offering a number of other beneficial health and beauty uses. From teeth whitening to improved digestion, an activated charcoal face mask is just the beginning.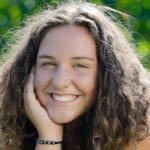 Megan Thompson is a DIY health & beauty addict. She's committed to making her itsy-bitsy apartment chemical free. You can find her work at Rocky Mountain Essential where she is responsible for the blog, Instagram and Pinterest.