I like to make lentil stews for lunch, but suddenly my 5-year-old got tired of lentils and asked for a meal made of beans. So I did.
I left the base the same – onion, garlic, celery, and carrot. I added potatoes for starch and corn for sweetness. To make the stew colourful I chose legumes of different colours – yellow chickpeas and red beans, which look so nice together.
I didn't have any spinach, kale or chard in the fridge, so I decided to green the stew up with parsley and onion greens, which worked out especially well.
Besides being plant-based, this hearty chickpea-red bean stew is also gluten-free and uses no oil or sugar.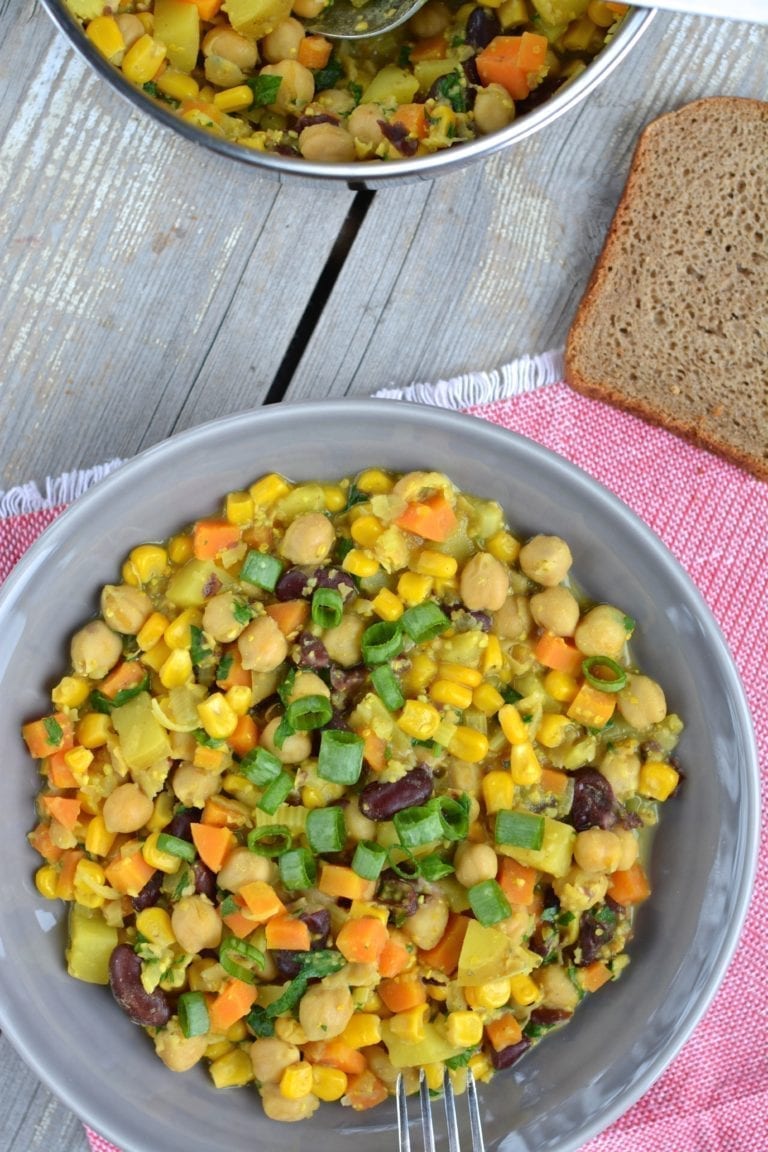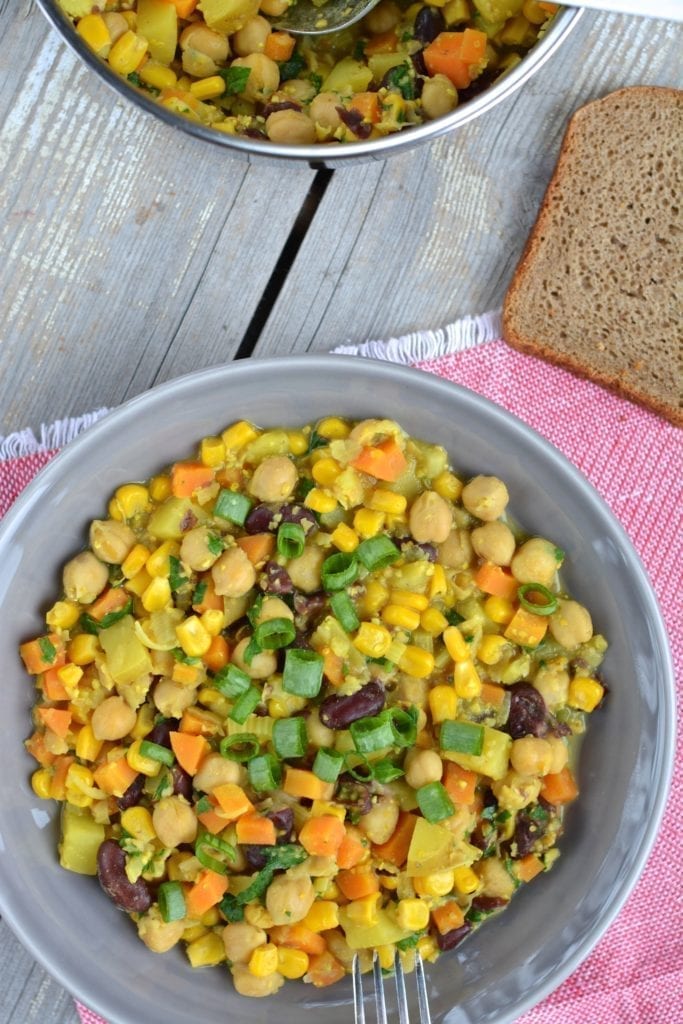 Ingredients |2 servings|

Add in the beginning:
2 tbsps. dried onion
1 tsp. dried garlic
½ tsp. turmeric
½ tsp. cumin seeds, crushed
1 tsp. mustard seeds, crushed
1 celery stalk, chopped
1 medium carrot, chopped
2 small potatoes, cut into smaller cubes
1 tsp. vegetable broth powder or Himalayan salt to taste
Add in the middle:
½ can sweet corn (of a 285g, 10oz can), rinsed and drained
1 can unsalted chickpeas, rinsed and drained
1 can unsalted red beans, rinsed and drained
Add at the end:
A handful of fresh flat leaf parsley, chopped
Black pepper or cayenne pepper
2 tbsps. coconut milk
Onion greens
1 tbsp. nutritional yeast per serving
Preparation:
Throw the ingredients listed in the first table into a small pot. Add enough water to cover the veggies. Bring to boil, stir and simmer covered for 8 minutes.
Take a plate and smash about 1/3 of chickpeas with fork.
When the 8 minutes is up, add rinsed and drained corn, whole and smashed chickpeas and red beans. Mix well. Bring to boil and simmer for another 5 minutes. Add a bit of water if necessary.
When the stew is done, mix in pepper of your choice, coconut milk and chopped parsley.
Garnish with onion greens and nutritional yeast.
Eat as is, fill tortillas or put on a slice of whole grain bread.
Tips:
If you don't like the taste of cumin seeds (I know that some people don't), then just leave them out or substitute with caraway seeds, should you enjoy those.
Use coriander instead of parsley if it is to your taste. Coriander goes very well with turmeric and cumin. But again, there are two kinds of people, those who love it and those who absolutely despise it.
Use any beans that you have in hand – white, pinto, black-eyed, black etc.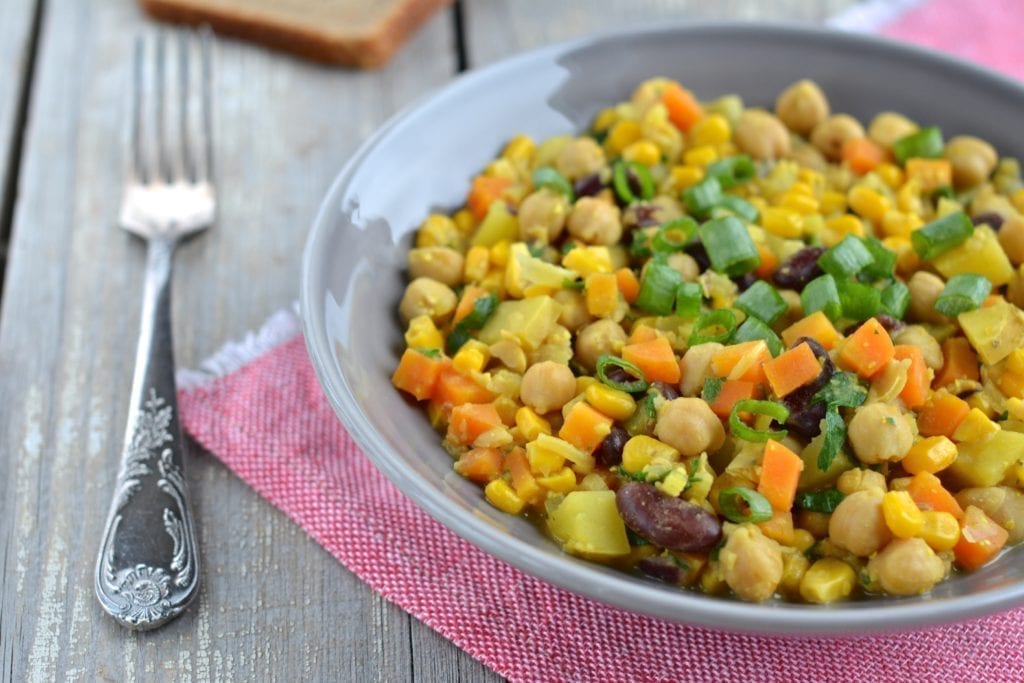 Enjoy!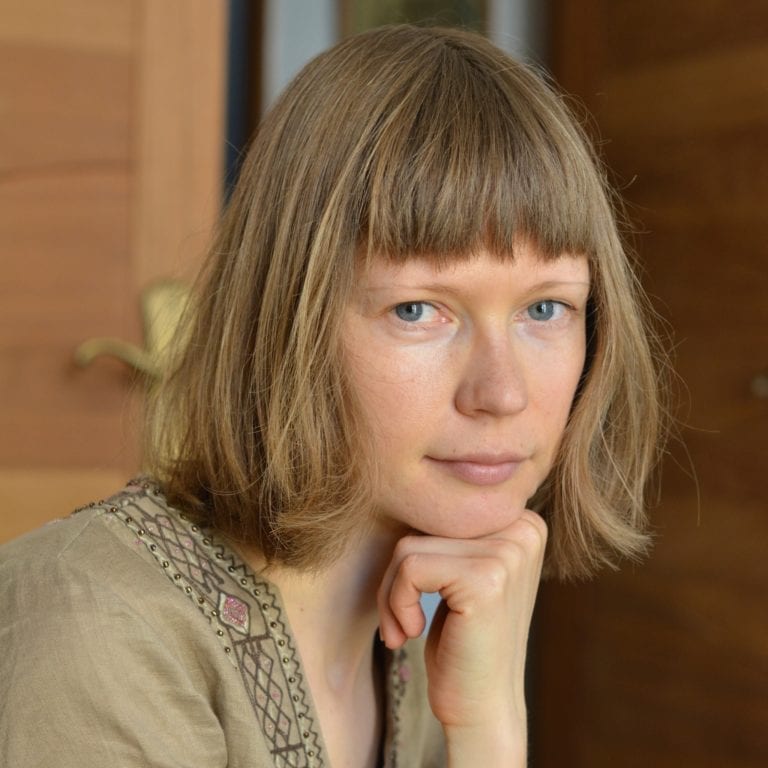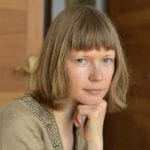 Nele Liivlaid: founder of Nutriplanet.org She has been into healthy eating for many years, but developed a more profound interest in nutrition and related diseases when she started reading The China Study and other special books on nutrition. After being in real estate and hospitality business for more than 10 years she decided to totally change her path to spread the word about healthy and sustainable nutrition and lifestyle.