Kiwi, also known as kiwifruit or Chinese gooseberry refers to an edible berry derived from a plant called woody vine. It is oval in shape and has a dull greenish-brown skin with rows of tiny, black seeds that come with numerous health benefits. Most people like kiwifruit due to its exotic taste and green color. Kiwi has been ranked among top super-food credit to its health benefits in preventing and treating ailments. Various studies that have been conducted in kiwi suggest that it can provide the following health benefits:

Kiwi Prevents DNA Damage
Various studies have shown fascinating effects of kiwi's phytonutrients in preventing DNA in the nucleus of human cells against oxidative reactions damage. Although the researchers are yet to identify the compounds in kiwi that give it protective antioxidant capacity, they are certain that it has to do with its nutrients, which include vitamin C and beta-carotene. In addition, kiwifruit is rich in flavonoids and carotenoids that have shown antioxidant activity in preventing DNA damage in body tissues as well as on the sensitive skin.
Strong Antioxidant Properties
In the food ranking systems, kiwifruit happens to be among the top as a great source of vitamin C. Vitamin C is a water-soluble antioxidant in the body that neutralizes free radicals responsible for cell damage, inflammation and cancer. Studies have shown that vitamin C supplementation can help reduce the severity of a large number health conditions, including skin disease, asthma, rheumatoid arthritis, osteoarthritis, diabetes, atherosclerosis and colon cancer. And because vitamin C plays an important role in boosting the immune system, it can help in preventing recurrent diseases like an ear infection. Other studies have shown that consumption of fruits and vegetables rich in vitamin C are linked to reduced risk of heart disease, stroke, and cancer.
High Dietary Fiber Content
Kiwifruit has a high dietary fiber that helps in regulating blood sugar and improving digestion. Studies have also shown that the fiber in kiwi can help in a number of health conditions. Researchers have demonstrated that food sources that are rich in dietary fiber help in reducing high cholesterol levels, which can avert heart disease and heart attack. In addition, fiber helps in the removal of waste and toxic substances from the digestive tract, which can help prevent colon cancer. Additionally, foods rich in fiber, like kiwi, can help regulate blood sugar levels in diabetic patients.
Prevents Breathing Problems
Consumption of foods rich in vitamin C has been shown to be effective in preventing respiratory issues linked to asthma-like wheezing. In reference to a study published in Thorax, it was found that children aged between 6 and 7 years from Italy who took citrus and kiwifruit on daily basis reported 44% fewer incidences of wheezing compared to children who ate fewer fruits. Significant reductions were also observed in shortness of breath, night time cough, runny nose, and chronic cough.
Prevent Macular Degeneration
Macular degeneration is a condition which affects your eyesight due to old age. It is in record that the main cause of vision loss in adults is caused by age-related macular degeneration (ARMD), and this condition can be prevented by eating at least 3 servings of fruit every day, according an article published in the Archives of Ophthalmology. According to this study which involved over 100,000 men and women, evaluations were made on participants' consumption of fruits and veggies rich in vitamins A, C, E, and carotenoids. The researchers found that fruit intake showed a significant reduction in symptoms of ARMD among participants who took three or more servings of fruit every day. This means that eating a kiwifruit every day can prevent you from getting vision impairment later in life.
Other Kiwifruit Health Benefits
Kiwifruit has also been demonstrated to be effective in preventing other health problems, including cardiovascular disease, high blood pressure, and skin degeneration.
Conclusion
Kiwi is an attractive fruit that tastes great and comes with a host of health benefits for your body functions as well as your skin care. It is a favorite to kids because they are unique from other fruits. Eating kiwifruits is a great way to ensure that you are getting a variety of nutrients from unique sources for health improvement. It is naturally organic and generally safe from many pesticide residues. Flavor your fruit tarts with kiwifruit and enjoy their delicious and nutritious taste!
Reference:
http://www.care2.com/greenliving/14-healthy-reasons-to-eat-kiwi.html
http://www.healthyfellow.com/151/kiwi-fruit-and-heart-disease/
https://www.glozine.com/lifestyle/health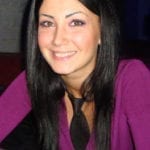 About author: Linda Daniels is a freelance health, fitness and beauty writer and social media maven. She contributes to ConsumerHealthDigest.com since 2011. She is MA in English Literature. She spends her free time educating people on health related topics. Join Linda on Facebook, Google+, StumbleUpon & Pinterest.